It's our local food that we can recommend you same as our main dish MOTSUNABE.
I want you to like our local food,
so we arrange the dish with fresh and high quality food every day.
(※One drink order system)

This month recommendation menu
Popular menu from last month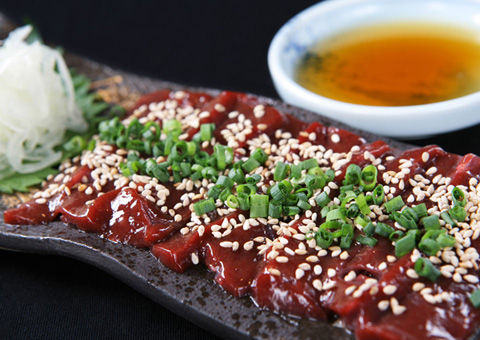 Horse lever sashimi 1,380 yen [1,518 yen tax included]
It is very fresh and directly sent from Kumamoto Koga farm. If you like lever, you will love it.It is good to have with sake.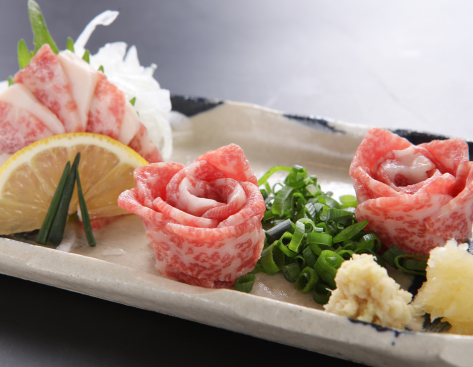 High quality marbled horse sashimi 1,580 yen [1,738 yen tax included]
Directly deliverd from Koga farm in Kumamoto. The food for horse is also carefully picked, so the quality is very high. Please enjoy with horse sashimi soy sauce.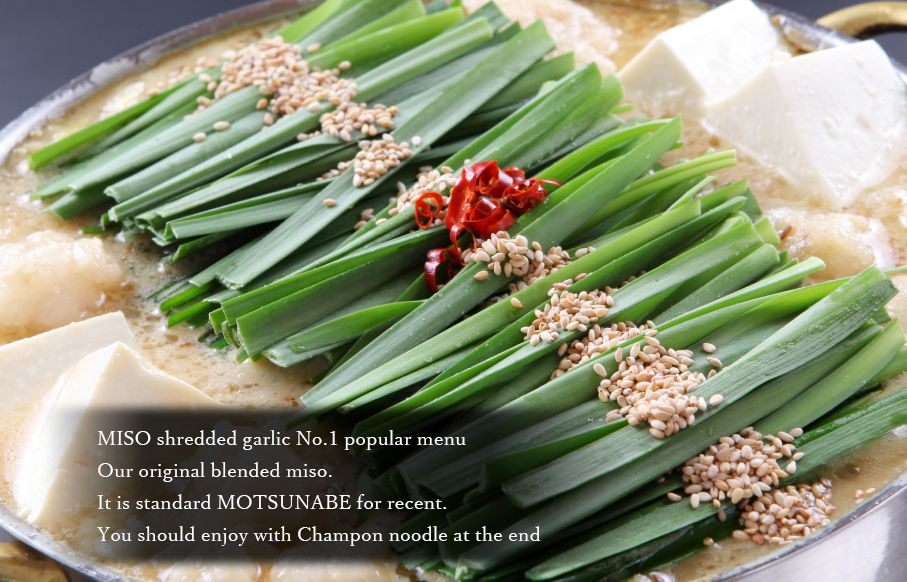 The taste more than a hundred years of history
MOTSUNABE
1,380 Each [1,518 tax included]
* You can order from for two persons

Our original blended miso.
It is standard MOTSUNABE for recent.
You should enjoy with Champon noodle at the end.
◆ Soy sauce sliced garlic
It is regular menu for Hakata MOTSUNABE
The soup is thick taste and made by bonito, kelp, and soy sauce.
Sliced garlic make the taste of soup great.
◆Ponzu no garlic
The soup is thin taste and made by bonito, kelp, and soy sauce.
It's Mizudaki style of MOTSUNABE with Ponzu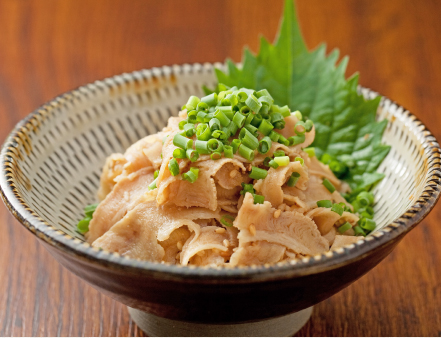 Additional menu
Assorted vegetable
450 Each [495 tax included]
(cabbage, leek, and burdock)
MOTSU
1,380 [1,518 tax included]
Additional skin of MOTSU
980 [1,078 tax included]
Assorted vegetable (cabbage, leek, and burdock)
1,380 [1,518 tax included]
TOFU
300 [330 tax included]
MOCHI
350 [385 tax included]
Chanpon noodle
350 [385 tax included]
Rice set
480 [528 tax included]
Rice
large size 300 [330 tax included]
standard 250 [275 tax included]
small size 200 [220 tax included]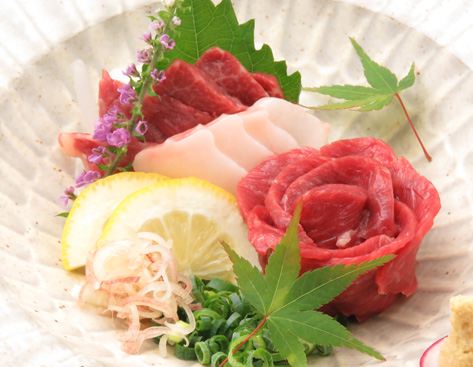 Gem dish
extra quality of marbled horse sashimi
1,580 [1,738 tax included]
extra quality of marbled horse sashimi
950 [1,045 tax included]
High quality of Lean meat horse sashimi
2,450 [2,695 tax included]
horse lever sashimi
1,380 [1,518 tax included]
Beef cheek stew
950 [1,045 tax included]
Horse meat stew
680 [748 tax included]
Sesame amberjack
980 [1,078 tax included]
Avocado sashimi
550 [605 tax included]
Vinegar MOTSU
650 [715 tax included]
Chanja
450 [495 tax included]
White Senmai
680 [748 tax included]
Smoked horse sashimi
650 [715 tax included]
HAKATA MENTAIKO
450 [495 tax included]
Original yam pickles
450 [495 tax included]
Cold tomato
450 [495 tax included]
Cold cucumber
350 [385 tax included]
Cold tofu
350 [385 tax included]
Cold deep fried chicken 8 pieces
550 [605 tax included]
Ichifuji Salad
550 [605 tax included]
Caesar Salad with soft boiled egg
650 [715 tax included]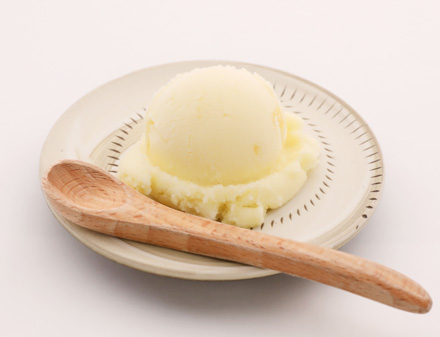 Dessert
ICHIFUJI Japanese style of Anmitsu Parfait
650 [715 tax included]
Thick taste of Vanila ice cream
350 [385 tax included]
Green tea Ice cream
350 [385 tax included]
Seasonal Sherbet
350 [385 tax included]
Drink
Draft Beer middle size
530 [583 tax included]
(Kirin ICHIBAN SHIBORI)
Draft Beer small size
430 [473 tax included]
(Kirin ICHIBAN SHIBORI)
Kirin ICHIBAN SHIBORI middle size of bottle
580Each [638 tax included]
(Kirin ICHIBAN SHIBORI)
ASAHI SUPER DRY middle size of bottle
580Each [638 tax included]
(ASAHI SUPER DRY)
Non Alcohol
400 [440 tax included]
(Kirin Free)
Highball
430Each [473 tax included]
Shochu Highball
450Each [495 tax included]
Cocktail
450Each [495 tax included]
Soft drink
340Each [374 tax included]
Imo Shochu (Potato Shochu)
Kurokirishima
430 [473 tax included]
Sasou
450 [495 tax included]
Kiroku
480 [528 tax included]
Shima Bijin
480 [528 tax included]
Aira
550 [605 tax included]
Mitake
550 [605 tax included]
Umi
550 [605 tax included]
Akakirishima
550 [605 tax included]
Tominohouzan
600 [660 tax included]
Sato White
600 [660 tax included]
Sato Black
700 [770 tax included]
Imo Shochu (Potato Shochu)
Kichisuke Red
600 [660 tax included]
Maou
900 [990 tax included]
Murao
1,100 [1,210 tax included]
Moriizou
1,200 [1,320 tax included]
Umaimonowa umai
(wheat)
430 [473 tax included]
Hakata Kojoro Ginjyo Migaki
(wheat)
480 [528 tax included]
Nakanaka
(wheat)
500 [550 tax included]
Hakusui (rice)
430 [473 tax included]
(Potato)Sasou
2,500 [2,750 tax included]
(Potato)Kurokirishima
2,380 [2,618 tax included]
(Potato)Akakirishima
3,000 [3,300 tax included]
(Potato)Yoshisuke Red
3,300 [3,630 tax included]
(Potato)Sato Black
3,800 [4,180 tax included]
from 2008 to 2012, chosen as the best Umeshu, liquor
Hyakunen Plum wine
600 [660 tax included]
(The best prize of 2008)
Tsuruume Nigori plum wine
600 [660 tax included]
(Chosen as the best by buyer in 2010)
Uguisutomari Outoro
600 [660 tax included]
(The best prize of 2011)
Toko Ginjo Umeshu
650 [715 tax included]
(The best prize in 2012)
Tsuruume Yuzushu
620 [682 tax included]
(The best prize of liquor in 2012)
Aragoshi Mikan
620 [682 tax included]
(Third prize of liquor in 2012)
Highly selected Umeshu and Fruit sake
Tsuruume plum wine
500 [550 tax included]
Aragoshi Momoshu
620 [682 tax included]
Umeshu -no alcohol
350 [385 tax included]
※20歳未満の飲酒は法律で禁じられております。